Introduction
Introduction
Beijing Friendship Hospital Affiliated to the Capital University of Medical Sciences, formerly named Beijing Soviet Red Cross Hospital, was founded in 1952. After the founding of New China, Marshal Stalin and Chairman Mao Zedong agreed that our Party and government established a large hospital in the capital through the assistance of the former Soviet government and the Soviet Red Cross. In 1954, our hospital moved from the old site of Ganshuiqiao to the current site. Chairman Mao Zedong, Vice-chairman Liu Shaoqi, Premier Zhou Enlai and Chairman Zhu De wrote messages for our hospital. In March 1957, the former Soviet government handed over the hospital to our country, and Premier Zhou came to our hospital to participate in the hand-over ceremony even though he was busy with many affairs. In 1970, Premier Zhou renamed the hospital – "Beijing Friendship Hospital".
Shortly after the founding the hospital, the Chinese government transferred many outstanding medical and nursing staff from all parts of China and chose and appointed high-quality leading cadres. Thanks to the guidance and help of over 120 experienced medical and nursing experts chosen and sent by the Soviet government, all disciplines were established and our hospital was famous for rigorous medical treatment and hospital management. This has laid a solid foundation for the all-round development of our hospital in future. After unremitting efforts of several generations of medical staff of Beijing Friendship Hospital, it has expanded rapidly and continued to enhance its comprehensive strength. It has become the first grade, large and comprehensive hospital which has all the necessary departments with special features and advanced equipment, provides good services and integrates the Chinese medicine with the Western medicine and which produces an important impact on the medical and health circles in the capital. It has made contributions to China's medical and health undertakings and people's physical fitness.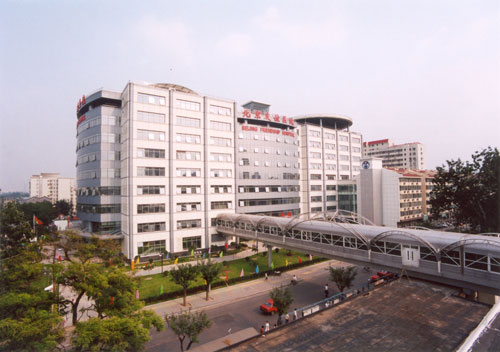 Our hospital covers an area of over 94,000 square metres. The new building for outpatient and emergency treatment under construction has 52,000 square metres. After construction of the new building is completed, the floor space of our hospital buildings for medical treatment will reach 170,000 square metres. At present, our hospital has 2,800 staff members, including 400 chief and deputy chief physicians, professors, associate professors, research fellows and senior technical staff with corresponding professional titles. It has a large number of sophisticated medical equipment which is commonly used in the world. It has 1256 inpatient beds and 43clinical and medico-technical departments. The number of outpatient cases comes to about 8,000 every day, and over 50,000 patients are discharged from our hospital every year. At present, our hospital undertakes the task of medical insurance for over 400,000 persons in Beijing and provides medical and health services to patients from all parts of China, over 8,000 cadres at and above the level of department and bureau and foreign guests.
Our hospital has Beijing Clinical Research Institute, Beijing Tropical Medicine Research Institute and the Urinary Surgery Research Institute of Beijing Municipal Bureau of Health. It has four key disciplines in Beijing, five key disciplines supported by Beijing municipal government and a contingent of leading scholars in some disciplines and key technical staff. It has preliminarily created a model featuring advantages in the hospital, special features in different departments and special skills in different medical staff. On the basis of the strength accumulated through comprehensive development, our hospital reaches the international advanced levels in infection emergency treatment and organ transplants. It reaches the country's advanced levels in diagnosis and treatment of digestive diseases, chronic hepatic diseases and cardiovascular diseases. It undertakes research projects to tackle key problems during the period of the Ninth Five-Year Plan, projects of the State Science and Technology Commission and municipal research projects. It conducts research in parasitic and leprous research topics supported by WHO. Over the past twenty years, our hospital has won over 400 national, ministerial, municipal and bureau awards for research findings. Many research results are developed, put into clinical application and produce good economic benefits.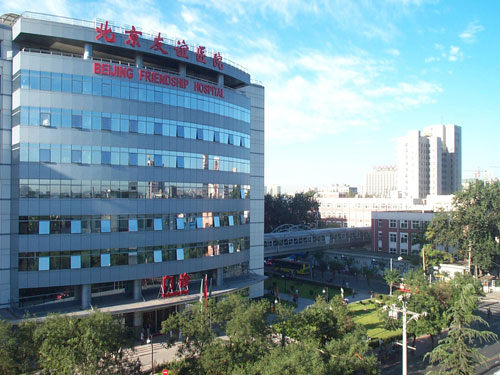 Our hospital is a clinical medical institute affiliated to the Capital University of Medical Sciences as well as a clinical teaching base for training high-level medical staff. It provides the seven-year postgraduate education and the five-year undergraduate education. At the same time, it undertakes a few national and municipal continuation education projects. Since the 1970s, it has begun enrolling postgraduates with the Master's degree and doctoral students and established the postdoctoral research station. Our hospital has about 90 supervisors of postgraduates, a few professors hold posts in international medical societies or associations, and over 60 professors serve as vice-chairmen or chairmen of various medical associations of the Chinese Medical Association, Beijing branches and national magazines.
Our hospital takes the initiative to conduct international exchanges and cooperation through many channels and in many fields. We have established friendly and cooperative relations with medical institutes in 23 countries and regions, sent our medical staff abroad to pursue advanced studies, invited foreign experts to come to our hospital to give lectures and continued to introduce new knowledge and technology to our hospital and raised the academic level of our hospital.
In 1991, our hospital passed the assessment of the first grade hospital by the Ministry of Health. In 1989, the Party committee of our hospital was chosen as the advanced primary Party organization in the country. Our hospital has won the title of "garden-like hospital" given by the municipal government for 17 successive years. It has been chosen as the unit with credible pricing and measurement for 8 successive years. It has been chosen as the culturally advanced unit in the capital for 17 successive years.
Several generations of medical staff in Beijing Friendship Hospital have adhered to the spirit of "beneficence, fraternity, breadth and proficiency". In the new century, medical staff in Beijing Friendship Hospital will proceed from a high starting point and with a new look, unite, cooperate, work hard, blaze new trails, seek innovation, advance with the times and strive to scale new heights in medical sciences with sophisticated medical skills and selfless love. In the 21st century full of challenges and hopes, they will work hard to make outstanding achievements in turning Beijing Friendship Hospital into a modern comprehensive hospital with first-class medical staff, first-class management, first-class technology and first-class services and create a beautiful future for Beijing Friendship Hospital.